CONTENT

Foreword

Design buttons that make impression

Tip: Hide buttons in a menu

Tip: Adjust the position of a button in a menu

Frequently Asked Questions (FAQ)

Inspecta presents reports with CD-Menu Creator
---
FOREWORD

This is newsletter number two in a series of three for those who had tried or bought SamLogic CD-Menu Creator. In this issue we have included two articles that describes the benefits of using menu interfaces for CDs, DVDs and USB flash drives. We have also added two tips that show how you can adapt the buttons in a menu to your purposes.

If you have questions about the menu designer tool SamLogic CD-Menu Creator or have comments on the newsletter, you can send us an e-mail. Our e-mail address is available at the bottom of this newsletter.

Sincerely,
Anders Persson
SamLogic
---
DESIGN BUTTONS THAT MAKE IMPRESSION

Good design is important nowadays. And most important is often the first impression. When you distribute software via a CD, DVD or USB flash drive you have the opportunity to give your user a great first expression by adding a beautiful and professional menu interface.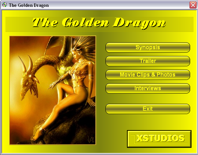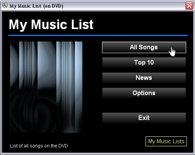 An important part of a graphical menu interface is the buttons that the users clicks to launch programs or open documents etc. With CD-Menu Creator you can create buttons with various styles and you can use a lot of effects together with the buttons, for example glass effects, reflections, shadows, etc. Below we will show some button styles that can be created with CD-Menu Creator:

Buttons with vertical color gradient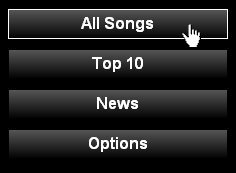 The picture above shows buttons that fades vertically between two colors. In the top of a button gray color is used and in the bottom of a button black color used. By changing color from one color to another in this way a color gradient effect is created.

Buttons with cylindrical color gradient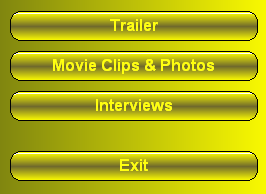 The picture above shows buttons with a cylindrical color gradient, which also is combined with a light reflector on the top of the button. This gives the illusion of a three-dimensional metal surface, in this case gold.

Partially transparent buttons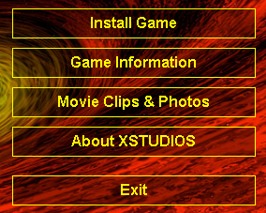 The picture above shows buttons that are partially transparent. The background is partially visible trough every button. In CD-Menu Creator you can choose how much of the background that should be visible through the button (the buttons opacity).

For more examples of button styles you can click on the links below to view our menu gallery:



Menu Gallery 1 - examples of menus and buttons

Menu Gallery 2 - examples of menus and buttons
---
TIP: HIDE BUTTONS IN A MENU

This tip describes how to hide a button in a menu. When you hide a button all settings and properties for the button are preserved, but the button is not shown in the menu interface.



How to create a hidden button in a menu
---
TIP: ADJUST THE POSITION OF A BUTTON IN A MENU

This tip shows how to adjust a button's X and Y position in a menu. You can move a button to any place in a menu interface and on this page we show you how to do this:



How to adjust the button's position in the menu window
---
FREQUENTLY ASKED QUESTIONS (FAQ)

We have a FAQ page for SamLogic CD-Menu Creator on our web site and there you will find answers to common questions about the product. If you want to take a look on our FAQ page you can click on the link below:



SamLogic CD-Menu Creator - Frequently Asked Questions

Below you will find a copy of some common questions and answers, taken from the FAQ page:

Q: Can I test the menu before I burn it on a CD or DVD?
A: Yes, you can preview the menu and run it on your harddrive.

Q: Is it possible to create a CD/DVD with more than one menu?
A: Yes, you can create menu interfaces with multiple menus. In the help documentation for CD-Menu Creator you can find a description and an example of how to create a menu system with many menus. You can select the menu item "Help - Contents" and then click on the "CD/DVD with more than one menu" link to read a detailed description. See also: How to create multiple menus on a CD or DVD.

Q: I have an older version of SamLogic CD-Menu Creator. Can I upgrade to the latest version for a lower price?
A: Yes, if you have an older of version of SamLogic CD-Menu Creator you can upgrade to the latest version to a reduced price. The current upgrade price is $49 (39 euro). You can upgrade from this order page.

---
INSPECTA PRESENTS REPORTS WITH CD-MENU CREATOR

- What do you think is good with SamLogic CD-Menu Creator?

- Customer that have very little experience of computers can in a simple way read our information.

It says Mats Henriksson of Inspecta. The company is a leading inspection company in Scandinavia with over 1,250 employees in Sweden, Finland and the Baltics. Furthermore, he says:
- We use the program to make stunning autorun menus for CDs, where we report results of work against the customer.

When Inspecta do their surveys the store the result in comprehensive reports, often consisting of multiple PDF documents. Then they put the documents on CDs which they give to their customers. Inspecta uses CD-Menu Creator to create a menu interface on the CD and link every button to a PDF document. When the CD is inserted in the drive the menu is shown automatically and the user can immediately open a report by clicking on a button.

Inspecta has created various menus that they uses as templates when they need to create a new menu. The inspectors uses laptops when they visits their customers so they can directly create CDs with a report of the survey results.

Inspecta - Short company descriptionn
Inspecta's Swedish operation consists of 550 employees who are located in 20 different places in Sweden. The company is divided into three divisions: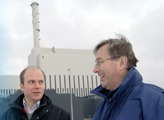 - Inspecta Sweden
Provides services in inspections, testing, product and personnel certification, consulting and training.

- Inspecta Nuclear
Approved environmental auditor to conduct review of Swedish nuclear power plants, and also offers advice and training in the nuclear field, and assists in matters that include regulations and standards.

- Inspecta Technology
Is a technical consultancy specializing in materials, strength, fracture mechanics and the risk and safety assessments.

For more information, visit Inspectas web site.

More information about CD-Menu Creator
For more information on how to create menus, you can read the product page for SamLogic CD-Menu Creator.


Order the latest
CD-Menu Creator 2012!
---
The latest version of the menu designer tool CD-Menu Creator is 2012. This version supports Windows 8 & 64-bit Windows. The menus that are distributed are code signed which allows distribution to restricted environments.