Tip: How to create a menu that only opens once
Sometimes you only want the menu to be shown the first time the CD / DVD is inserted in the disc drive. For example, the user has installed a program on the hard drive and the CD / DVD should thereafter only provide data or pictures or movies. Having the menu show up every time the CD / DVD is inserted in the drive could create unnecessary irritation.

SamLogic CD-Menu Creator contains a function that prevents the menu from showing more than once. Information is stored in the Registry, that the menu program will examine, and this can be used to prevent the menu from opening after the first time. All these steps happen behind the scene and the user will not be disrupted.

To create a menu that is displayed only once:
Start CD-Menu Creator and open a menu project.
Click on Advanced button in the Window tab.
Select HKEY_LOCAL_MACHINE in the HKEY dropdown box.
Enter the text "Software\SamLogic\NoMenus" in the Sub Key text box.
Enter the text "Program1" in the Value Name text box.
Enter "DoNotShowProgram1" in the Value text box.
Press OK. Create a new menu.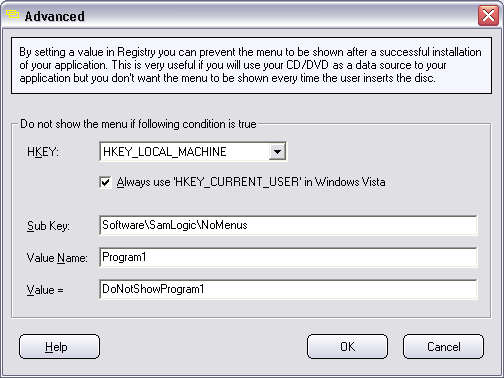 The menu program will check the Windows Registry next time the CD / DVD is inserted in the drive and if the above specified conditions are true, the menu interface will not be shown.