Tip: How to add social media icons to a menu interface
It is possible to add clickable social media icons to a menu interface. For example clickable icons that contain logotypes for Facebook, Twitter, Google++ and YouTube. When a user clicks on a icon, the corresponding social media page is opened on the Internet. You can also add tip text to an icon. The tip text is shown when the mouse pointer is above the icon.


To add icons for social media in a menu interface, follow the steps below:

1. Start CD-Menu Creator

2. Create a new menu project or open an existing project

3. Select the File – Options menu item

4. Open the Social Media tab in the dialog box

5. Choose which social media you want to support and enter URLs (web addresses) to your social media pages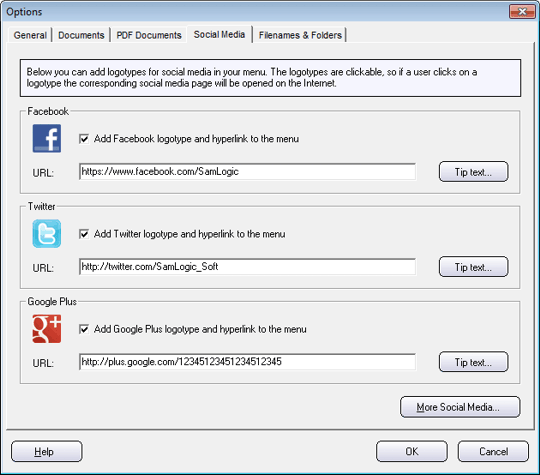 6. Press the Tip text button to add a tip text to the icon





7. If you want to add support for YouTube, LinkedIn, Instagram or Pinterest you can click on the More Social Media button

8. Close the Options dialog box and open the Windows tab in the editor

9. Select the Include social media logotypes option in the Windows tab

10. Click on the Preview button in the editor to preview the menu; it should look like: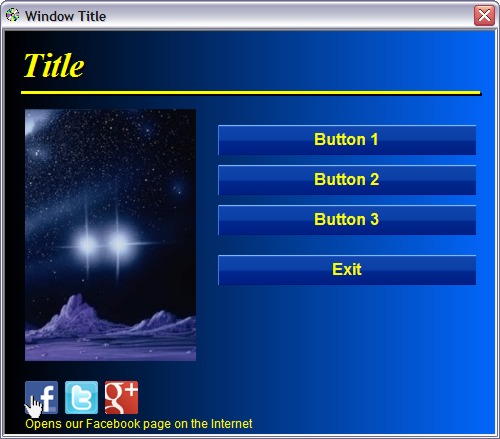 In the menu interface example above logotypes for Facebook, Twitter and Google+ has been included in the menu. If the user for example clicks on the Facebook logotype, a web page on Facebook will be opened.