Tip: How to use Unicode characters in a menu
It is possible to use Unicode characters to text in a menu interface that you create with CD-Menu Creator. When using Unicode characters, you can enter text in virtually all languages that exist in the world, including advanced written languages as Chinese, Japanese, Thai etc. You can also mix different languages in the same menu, for example create a menu that contains text in English, Chinese and Japanese at the same time.

Activate Unicode handling
Before you start using Unicode characters in a menu, you must activate the Unicode handling in CD-Menu Creator. You can do this by choosing the File - Options menu item, and then checking the Use Unicode encoding for all characters in a menu option in the General tab in the Options dialog box.





After you have activated Unicode handling, you can enter Unicode characters for the following objects in a menu interface:

- The title
- Button text
- Tip text

Example
The pictures below show how Chinese characters can be entered in the editor and how it will look like in the menu interface when te menu is previewed:

Title text




Button text




The menu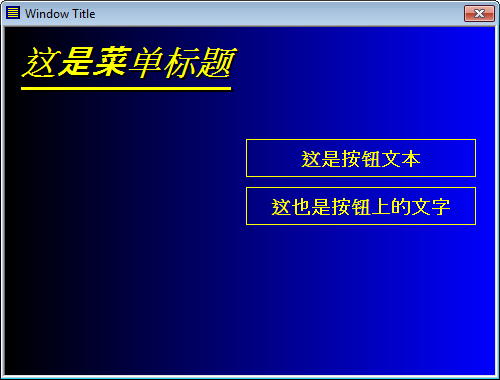 Note
When you choose a font for the Unicode characters, make sure to test the font in the lowest operating system that you will support. In Windows XP and later the Unicode support is limited, so always test your menu in a Windows XP system if Windows XP is oldest operating system that you will support.