CONTENT

Foreword

How to install a font with Visual Installer

How to check that a file is dual code signed

Using wildcard characters in a file path (CD-Menu Creator)

How to add social media icons to a menu interface

More news on Facebook
---
FOREWORD

To [$Namn],

In this issue of our newsletter you can read about how to install a font with Visual Installer. You can also read about how to check that a setup package is dual code signed.

We have also included two tips for CD-Menu Creator that shows how to use wildcard characters in filenames and how to use social media icons in menu interfaces.

Sincerely,
Anders Persson
SamLogic Software
---
HOW TO INSTALL A FONT WITH VISUAL INSTALLER
Sometimes the fonts that are included in Windows are not enough, and you need to distribute your own font(s) with your software. But before they can be used in another computer, they must be installed in the right system folder and registered in the system.

Luckily Visual Installer supports installation and registration of fonts. So it is easy to add a font to your installation and have it installed and registered in another computer.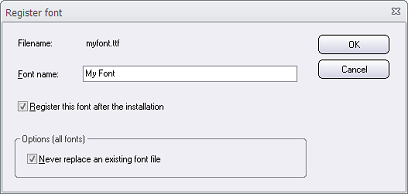 In this tip we will show how to add a font file to an installation project and how to make sure it will be registered in the system during the installation:



How to install a font with Visual Installer
---
HOW TO CHECK THAT A FILE IS DUAL CODE SIGNED

Nowadays it is strongly recommended to dual code sign a setup package so both a SHA-1 and a SHA-2 code signing certificate are used. In this blog post we explain why:



Visual Installer now supports SHA-2 and dual code signing

But how can you check that a setup package is successfully dual code signed? You will find the answer in this blog post:



How to check that a file is dual code signed
---
USING WILDCARD CHARACTERS IN A FILE PATH

If the filenames of the files on a CD, DVD or USB stick need to be changed after the first creation of the menu interface, the whole menu need normally be re-created. But starting with version 8.5.3 of CD-Menu Creator, another method is available. Instead of specifying an exact filename, you can use a wildcard character (an asterisk) and only specify the filename extension of the filename (for example: *.doc). Then the filename of the file in the folder can be set freely; you just need to keep the same filename extension.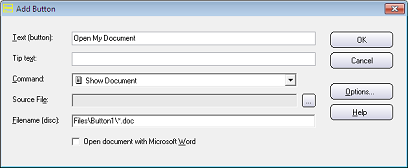 We will explain more in this blog post:



CD-Menu Creator: Using wildcard characters in a file path
---
USB MENU CREATOR - AUTORUN MENUS FOR USB STICKS
With USB Menu Creator you can create AutoRun menu interfaces for USB sticks and SD cards.

USB Menu Creator is a special bundle that contains the following 3 products: CD-Menu Creator, USB AutoRun Creator and Image Resizer.



More information
---
HOW TO ADD SOCIAL MEDIA ICONS TO A MENU INTERFACE

It is possible to add clickable social media icons to a menu interface that is created with CD-Menu Creator; for example clickable icons that contain logotypes for Facebook, Twitter, Google++, Instagram, YouTube etc. When a user clicks on a icon, the corresponding social media page is opened on the Internet.





In this step-by-step tip we explain how to add clickable social media icons to a menu interface:



How to add social media icons to a menu interface
---
MORE NEWS ON FACEBOOK
More news are available on our Facebook page. Click on the link below to visit our Facebook page: