Automatic handling of subscribe and unsubscribe requests



Contents in mailing lists / contact lists are constantly changing. New subscribers appear and want to subscribe your newsletter, and your current newsletter subscribers want sometimes unsubscribe your newsletter (for various reasons). If you have large mailing lists with lots of contacts this can happen many times a day, maybe even many times per hour.

MultiMailer can handle subscribe and unsubscribe requests automatically
If you handle all this manually it can be very time consuming, and it is also easy to make mistakes. For that reason there is a built-in support in MultiMailer for automatic handling of subscribe and unsubscribe requests from contacts.

Block list
Subscriber's e-mail address, name and other contact information can be easily added to your mailing lists and contacts that do not want to receive newsletters anymore (unsubscribe requests) can be placed in a block list (exclusion list). By placing the contact in a block list, he/she will not get anymore e-mails from you, even if the contact's e-mail address is still in a mailing list. This assures that no contact that has unsubscribed will get a newsletter by mistake.

A whole domain can be blocked
Sometimes a newsletter subscriber can have subscribed on many e-mail addresses in the same domain. With MultiMailer you can block a whole domain, like "@test.com", if it is needed.

Flexible handling of subscribe and unsubscribe requests
The handling of subscribe and unsubscribe requests in MultiMailer is very flexible. The system can co-operate with Microsoft Outlook or co-operate with a POP3 account that receives registration e-mails (subscribe and unsubscribe e-mails). MultiMailer can import registration e-mails from almost every type of web form on the Internet, for example from FormMail forms.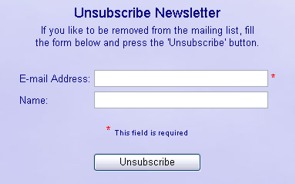 Web forms in 7 languages available
If you don't have your own web forms for subscribe / unsubscribe handling you can use MultiMailer's registration forms instead. They are located on our web server, and we have web forms available in 7 languages; for example in English, Spanish and German. A web form for those that want to change their e-mail address is also available in 7 languages.





The web forms co-operate with the MultiMailer program, so if a user for example enter an e-mail address and name on a web form, the contact information will be available in MultiMailer only seconds after. You can read more about MultiMailer's web forms on this page.

< Go back