Newsletter / e-mail marketing software that sends personalized newsletters
An e-mail newsletter is a very cost-efficient way to send information and market and sell products, if it is used in the right way. The key to success is to provide the right information at the right time, and SamLogic MultiMailer will give you the tools to achieve this. By sending personalized and highly targeted newsletters you will increase the chances that the customer gets information he/she is really interested in, and by using the advanced analysis and follow-up tools in MultiMailer, you can increase the chances that the customer gets this information in the right moment.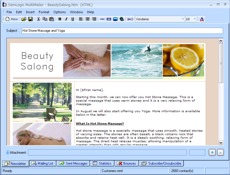 Easy to create & design beautiful HTML newsletters
With SamLogic MultiMailer it is easy to create and design beautiful HTML newsletters, with pictures and even sound! With the newsletter wizard in the program you can design a newsletter template fast and easily, and with the word-processor-like editor you can create a specific issue of your newsletter in an easy way. MultiMailer supports also plain text messages.

Supports social media as Facebook, Twitter & Google+
MultiMailer has built-in support for social media as Facebook, Twitter and Google+. So with MultiMailer you can make your newsletter more social!

Also suitable for press releases, price lists, surveys, e-cards etc.
SamLogic MultiMailer is the perfect tool if you on a regular basis want to send out a newsletter or make e-mail campaigns. But MultiMailer is very versatile and can also be used to mail product information, price lists, press releases, surveys, e-cards etc.

Handles subscribe and unsubscribe requests automatically
Contact lists that contain e-mail addresses are constantly changing. New subscribers appear and others want to unsubscribe. Managing all this manually can be time consuming, and it is easy to make mistakes. For that reason there is a built-in support in MultiMailer for handling of subscribe and unsubscribe requests in an automatic way. There are very powerful functions to maintain and handle mailing lists in MultiMailer.

Handles e-mail bounces
When you send e-mails to a high number of recipients, some of the e-mails are always bounced back because they can not be delivered to the recipient. The reason can be that the contact has changed his/her e-mail address, the e-mail address was invalid from the beginning, the mail server is down or the recipient's mail box is full. MultiMailer has powerful functions to handle e-mail bounces and can, for example, give you a detailed report with information about the contacts that generates bounces.

Statistics and analysis of newsletter campaigns / e-mail campaigns
It is important to be able to evaluate newsletter campaigns / e-mail campaigns. Therefore there are powerful functions included in MultiMailer for statistics and analysis of campaigns. With MultiMailer you can see how many that opens your newsletter and clicks on links in your newsletter. You can also see who of your contacts opens your newsletter and who clicks on the links. You can also see which links that get clicks. The information can be viewed directly in MultiMailer or exported to other programs (for example to CRM systems or databases). Functions to follow-up are also included in MultiMailer.

Import of data from other software
MultiMailer have powerful functions for import of contact information from other software, for example from Microsoft Outlook, Microsoft Excel, Microsoft Access, Oracle etc. MultiMailer supports ODBC, so the program can also import data from CRM systems and other databases. Powerful functions for export of data from MultiMailer is also included.

Standard, Professional and Enterprise version
SamLogic MultiMailer is a desktop program and is available in a Standard, Professional and Enterprise version. You can open this features page to read about the differences between the three versions of the program.

We have also informative videos on the YouTube. For example:



Send your first newsletter
What is my open rate?