Newsletter Wizard



There is a powerful newsletter wizard included in SamLogic MultiMailer. With the newsletter wizard you can design a newsletter template, which can be used as a basis for your newsletters. You can also use the newsletter wizard to create other types of e-mail templates, for example templates for information e-mails, press releases and e-cards (like Christmas cards).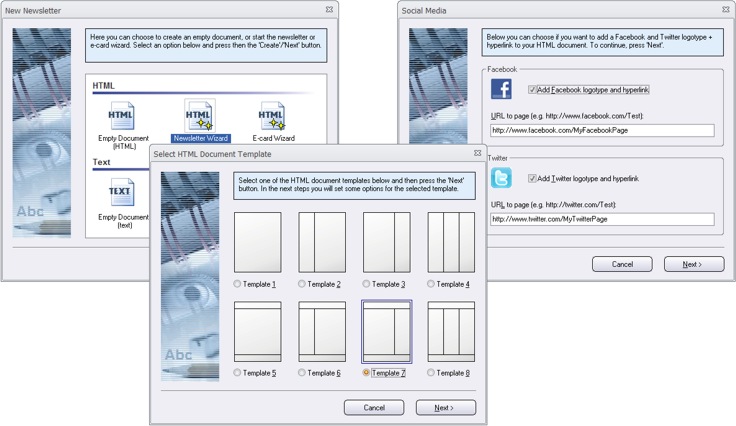 Header and footer pictures
There are a large number of e-mail header and footer pictures included in MultiMailer that you can use with the template. You can also choose your own pictures to the header and footer of the e-mail / newsletter template. For example, if you want to use a header and footer picture that have a similar design that the one on your website, it is possible with MultiMailer.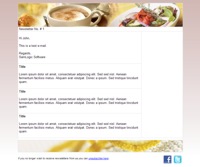 How does it work?
When you start the newsletter wizard you first choose a basic template. Thereafter you set properties as frame color, background color, font name and font size, the number of sections for your article texts, header and footer picture etc. After that, your e-mail template is ready!

Social media is supported
If you have pages on Facebook, Twitter and Google+ you can let the newsletter wizard add logotypes and links to your social media pages. When your newsletter reader clicks on a logotype, your page on Facebook, Twitter or Google+ is opened in the reader's web browser. You can read more about how social media is supported in MultiMailer on this page.

Easy to reuse a design
The newsletter wizard remembers all your settings, like fonts, colors, pictures etc. so it is easy to reuse a design that you have created for the next template you want to create. If you or your company uses a specific combination of colors, fonts and pictures for your e-mails, MultiMailer will remember this.

< Go back

External newsletter templates
Although you can create beautiful newsletter templates directly in MultiMailer, there are situations when it may be better to use an external newsletter template instead; for example a template that is tailored for a particular purpose. On the web there exists lots of free newsletter templates that are compatible with MultiMailer, and in this article we inform about some good web sites with free templates:



Free Newsletter Templates for Email Marketing