Free Newsletter Templates for Email Marketing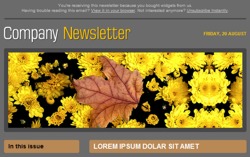 There exist a lot of web sites on the Internet that provide free newsletter templates that are designed for email marketing and email campaigns. By using third-party newsletter template you don't need to design a newsletter from the scratch. Instead, you can start with a professional and well-designed template and adapt it for you or your company's needs.

With these newsletter templates it is generally very easy to insert a company logotype, insert pictures, and change colors for text, background and frames. Most templates are distributed in a general HTML format, so they can be edited by almost all e-mail marketing software and e-mail marketing services on the market. They can also be opened and edited via regular email clients like Microsoft Outlook.

Some websites with free newsletter templates that we recommend
Below we will list some websites that contain professional and beautiful newsletter templates. They will all have a HTML version available of the template, so you will probably have no problem to use the template in your program or service. All templates can be used with our e-mail marketing software SamLogic MultiMailer. These websites also sell email templates, but generally the price is very low for one template. All templates can be downloaded directly from the site.

n FREE Email Templates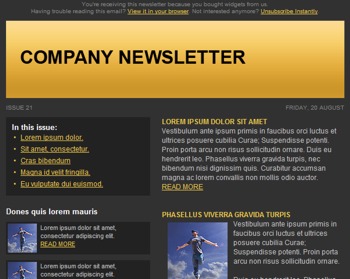 On this website you will find 20 professional and well-designed newsletter templates that can be used for free:


FREE Email Templates

The newsletter templates are stored as compressed ZIP files on the website, so if you want to examine a template closer you can click on the Download button below the template's picture to download it. You can also click the Preview button to view a template directly on the site.

The logotype for every newsletter header is stored in the file images\logo.gif, and you can add your own logotype to the newsletter by replacing the image file with your own image file. Or you can open the logo.gif file in a graphics painting program (like Microsoft Paint) and update the image. To every email newsletter template there is also a PSD file available, so you can edit and update an email template by using the program Adobe Photoshop.

n Hot E-Mail Templates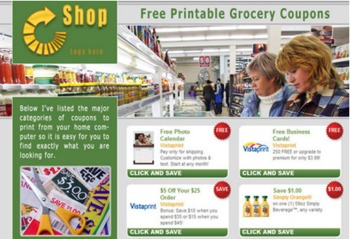 On this website you will find a very large number of free newsletter templates:


Hot E-Mail Templates

The company behind the web site can also design an exclusive HTML email template only for you, with a style that matches your website. They will also test that your template is compatible with all major email clients (like Microsoft Outlook and Lotus Notes), and with all major web based email services (like Microsoft Hotmail and Google Gmail).

They have also a blog on their site that gives useful tips about newsletter design. In this blog post they explain how to create an effective email marketing newsletter.

n Emailwear - Free newsletter templates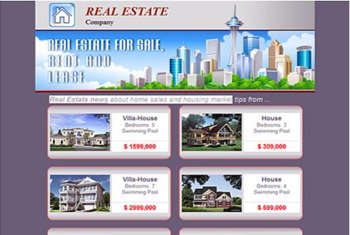 You fill find a few free newsletter templates on this site:


Emailwear - Free newsletter templates

The templates are well-designed, clean and stylish. But they require that you register before you can download the templates. They can also design an exclusive email template for you or your company.

n Templates Box - Free Website Templates
Here is also a website that we recommend. You will find a great number of newsletter templates on the website:


Templates Box - Free Website Templates

The have also templates for websites and logotypes. And other resources for web designers (like graphics).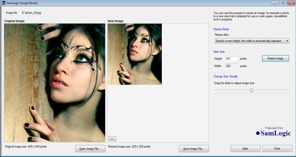 SamLogic Image Resizer
If you often include photos in your e-mail newsletters, then you may sometimes have noticed that the image file size sometimes can be very large. The reason can be that the image's resolution is very high (it is adapted for printing), or that the width and height of the image is very large. To handle this in an easy way, you can use our freeware program SamLogic Image Resizer to convert images so they are optimized for use in e-mail newsletters.




SamLogic Image Resizer – More information
Do you want to read more articles and tips?



If you want to read more articles and tips about e-mail newsletters and related topics you can follow us on Facebook or Twitter, or subscribe on our newsletter. You can also read our blog.

Related products:
SamLogic MultiMailer
Image Resizer

Other articles
More articles are available from the article index page.