CONTENT

Foreword

New script command in Visual Installer 2014 for MSI installations

How to handle multiple MSI installations

How do I create an AutoRun menu for a USB stick?

Latest news on SamLogic's Facebook page
---
FOREWORD

To [$Namn],

In this issue of SamLogic's newsletter you can read about a new script command in our installation tool SamLogic Visual Installer that handles MSI installations in an easy way.

We also present a new article that informs about how to create an AutoRun menu for a USB stick. And last in the newsletter we list the latest post in SamLogic Software's Facebook page.

Sincerely,
Anders Persson
SamLogic Software
---
NEW SCRIPT COMMAND FOR MSI INSTALLATIONS
SamLogic Visual Installer 2014 / Professional has been extended with a new script command that handles MSI installations in a more flexible way than before.

Via this new command you can for example start a silent or visible MSI installation, and you can choose if Visual Installer should pause it's own installation until the MSI installation is completed or if the MSI installation and Visual Installer's installation should be run in parallel. And by combining the script command with conditions, you can make Visual Installer run different MSI setup packages depending of the OS.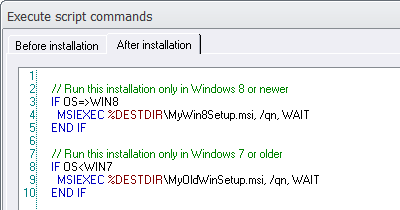 We have added a tip to the tips & tricks section of our website that explains in detail how to use the new script command:



Tip: How to run an MSI installation from script
---
HANDLE MULTIPLE MSI INSTALLATIONS

Sometimes it is necessary to run and complete one MSI installation before the next MSI installation starts. This may happens if your software is dependent of some specific prerequisites, also during the installation. One common problem is that one component can not be installed in the system, in a proper way, before some basic components that it needs are installed first. The installation of the basic components must be completed first; otherwise the next installation may fail.




It is possible to create setup packages where one installation is completed before the next one starts, but this can normally be tricky to achieve. But with the new script command in Visual Installer (that we have described above) this is very easy done. Read more:



How to complete MSI installation #1 before #2 starts
---
USB MENU CREATOR - AUTORUN MENUS FOR USB STICKS
With USB Menu Creator you can create AutoRun menu interfaces for USB flash drives. The menus will be opened automatically when the USB stick is plugged into a USB port in a computer. From a menu users can run programs, open documents, play movies, open web pages etc.

USB Menu Creator is a special bundle that contains the following 3 products: CD-Menu Creator, USB AutoRun Creator and Image Resizer. Click on the link below to read more about the product:



Read more about SamLogic USB Menu Creator
---
CREATE AN AUTORUN MENU FOR A FLASH DRIVE
There exist many menu designer tools on the market that can create menu interfaces for USB flash drives. But what about AutoRun menu interfaces? Menus that open automatically? Is this even possible?

Microsoft disabled the AutoRun function for USB sticks
Microsoft disabled the AutoRun function for USB sticks a few years ago, so it does not work as with CDs and DVDs, as it did before. Until the year of 2011 you only needed to add the filename of the menu to an Autorun.inf file (that you put on the USB flash drive) and the menu opened automatically when somebody inserted the USB stick into a USB port. But today this method doesn't work. If you try the same today, the menu will not open automatically. Instead will Windows AutoPlay window be shown on the screen, and you must click on the Windows Explorer option in the AutoPlay window to open Windows Explorer, and thereafter manually locate the menu program file on the drive and run it.

Does it have to be in this way? Is there really no way to create an AutoRun menu and have the menu be opened 100% automatically? We will give you the answer to this question in this new article on our site:



How to Create an AutoRun Menu For a USB Flash Drive
---
LATEST NEWS ON SAMLOGIC'S FACEBOOK PAGE
We have a new international Facebook page that is targeted for our international customers. Here we will publish information and news related to our products and our company. E.g. information about new program versions, tips, articles, white papers. In our Facebook page you can also ask us questions or just post comments. Some topics that we cover right now are:

- Where do I handle my setup dialog boxes in Visual Installer?
- Download SamLogic Image Resizer for free
- How to use SamLogic's Windows applications on a Mac
- Do you want information about our products in other languages?
- How to use the Picture Gallery in CD-Menu Creator to show videos
- Is it possible to create an online installer with Visual Installer?
- How to create newsletters for mobile devices

All texts that we publish are in English. If you want to visit our Facebook page, click on the link below:



SamLogic Software's international Facebook page
MEDIA TOOLS
---
SamLogic Media Tools is a product suite for developers, marketers and informers and contains 5 of our programs.

SPECIAL OFFER
---
You can now order Media Tools to a special price:

Standard: 99 dollar
Professional: 149 dollar

(valid through March 31st)



Read more and order
SEE ALSO
---
---
Visit also our blog.