CONTENT

Foreword

Where do I handle my setup dialog boxes in Visual Installer?

Setup dialog box images in Visual Installer

New setup dialog box in Visual Installer: User Options

How to use the User Options dialog box with script

More news on Facebook
---
FOREWORD

To [$Namn],

In this issue of our newsletter you can read about the new User Options setup dialog box that we have added to Visual Installer.

We will also give you information about how and where to handle Visual Installer's setup dialog boxes, and some samples of the ready-to-use setup dialog box images that are included in Visual Installer.

Sincerely,
Anders Persson
SamLogic Software
---
WHERE DO I HANDLE MY SETUP DIALOG BOXES?

The setup dialog boxes are a very important part of an installation. Via these dialog boxes you can give the user important information about the installation and let the user choose for example an installation folder, destination drive, program group or ask for a license key or password. The setup dialog boxes are also a good opportunity to give your users a great first impression of your product or your company.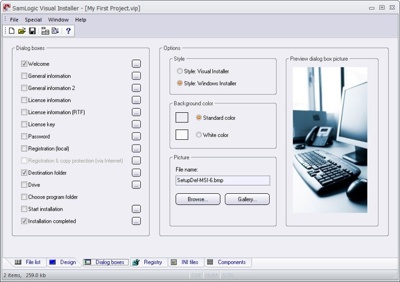 The following tip will show in detail how to choose which setup dialog boxes to include in a setup package, how to add text to the dialog boxes and how to change the dialog box image. If you are new to Visual Installer we recommend you to read this tip:



How to choose dialog boxes, add text & change image
---
SETUP DIALOG BOX IMAGES IN VISUAL INSTALLER

There are many ready-to-use images included in our installation tool Visual Installer. They can be used together with the setup dialog boxes (the setup wizard) that are shown for the end-users when they run an installation. The following video on YouTube shows some samples of dialog box images that follow Visual Installer:


---
USB MENU CREATOR - AUTORUN MENUS FOR USB STICKS
With USB Menu Creator you can create AutoRun menu interfaces for USB flash drives. The menus will open automatically when the USB stick is plugged into the computer's USB port. From a menu users can run programs, open documents, play videos etc.

USB Menu Creator is a special bundle that contains the following 3 products: CD-Menu Creator, USB AutoRun Creator and Image Resizer. Click on the link below to read more:



Read more about SamLogic USB Menu Creator
---
NEW SETUP DIALOG BOX IN VISUAL INSTALLER: USER OPTIONS

We have added a new setup dialog box to the Professional version of Visual Installer. It is a general dialog box where the user can select and unselect options that you add to the setup project.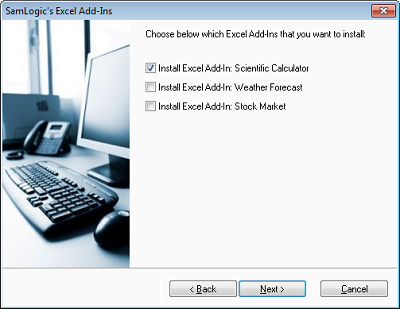 These options can co-operate with conditional statements in Visual Installer's scripting language and with Visual Installer's Registry tab. You can read more on this blog post:



New setup dialog box in Visual Installer: User Options
---
HOW TO USE THE USER OPTIONS DIALOG BOX WITH SCRIPT

This tip shows how you can combine the User Options dialog box with conditional statements in Visual Installer's scripting language:



How to use the User Options dialog box with script
---
MORE NEWS ON FACEBOOK
More news are available on our Facebook page. Right now you can for example read about:

- An update of Visual Installer 2015 is now available
- CD-Menu Creator's button commands explained
- The code signing function in Visual Installer has been updated

Click the link below to visit our Facebook page: