CONTENT

Foreword

Variables in Visual Installer

The %REG1 to %REG5 variables in Visual Installer

Using environment variables in Visual Installer

How to use variables in a menu interface

More news on Facebook
---
FOREWORD

To [$Namn],

If you have used a programming language before you are probably very familiar with variables. If not, you can read this Wikipedia article to get a basic knowledge about variables.

Both Visual Installer and CD-Menu Creator support variables, and in this issue of our newsletter we will show you how to use variables in these two tools.

Sincerely,
Anders Persson
SamLogic Software
---
VARIABLES IN VISUAL INSTALLER
You can use variables in many places in Visual Installer. For example when you handle folder paths, file paths, Registry, INI files, version information, file components, the script language etc.

In this blog post we explain more about variables and how to use them in Visual Installer:



Variables in Visual Installer
---
THE %REG1 TO %REG5 VARIABLES IN VISUAL INSTALLER

Many variables in Visual Installer get their values automatically from known locations in the Windows Registry, but there are also some variables in Visual Installer that can obtain their values from locations in Windows Registry that you specify.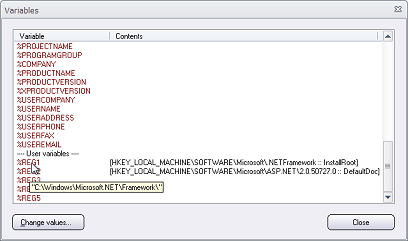 The name of these variables are %REG1, %REG2, %REG3, %REG4, and %REG5, and in this blog post we will explain how to use them:



The %REG1 to %REG5 variables in Visual Installer
---
USB MENU CREATOR - AUTORUN MENUS FOR USB STICKS
With USB Menu Creator you can create AutoRun menu interfaces for USB flash drives. The menus will open automatically when the USB stick is plugged into the computer's USB port. From a menu users can run programs, open documents, play videos etc.

USB Menu Creator is a special bundle that contains the following 3 products: CD-Menu Creator, USB AutoRun Creator and Image Resizer. Click on the link below to read more:



Read more about SamLogic USB Menu Creator
---
USING ENVIRONMENT VARIABLES IN VISUAL INSTALLER

Visual Installer supports also Windows environment variables. These variables can be used in the Registry tab and in the INI files tab in Visual Installer. The contents of the variables are read automatically from Windows.




Read this blog post to get more information about how to use environment variables in Visual Installer:



Using environment variables in Visual Installer
---
HOW TO USE VARIABLES IN A MENU INTERFACE
It is also possible to use variables in CD-Menu Creator. This tip shows how to use a variable in a menu interface's title:



How to use variables in a menu
---
MORE NEWS ON FACEBOOK
More news are available on our Facebook page. Click the link below to visit our Facebook page:


BUY NOW:

Visual Installer 2015
---

Order the latest version of our installation tool. Prices from 99 dollar:



Order here
CD-Menu Creator 2015
---

Order the latest version of our menu design tool. Prices from 79 dollar:



Order here
Media Tools
---

You can also order the latest Media Tools suite (where the 2 tools above are included). You will also get 1 year support & updates.

Prices from 149 dollar:



Order here
SEE ALSO
---
---
Visit also our blog.