Tip: How to install a 64 bit program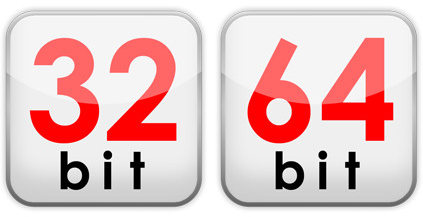 The Professional version of the SamLogic Visual Installer installation tool can install both 32 and 64 bit programs. Different folders on the hard disk and different keys in the Registry is used, so it is important to inform Visual Installer if your application is a 32 bit or a 64 bit software. In this tip we will how to specify in Visual Installer whether a 32 bit or 64 bit application will be installed.


Note. Installation of 64 bit applications is only supported by the Professional version of Visual Installer. The Standard version of Visual Installer can only install 32 bit applications. This tip requires Visual Installer / Professional.

How to install a 64 bit program with Visual Installer:


1. Start Visual Installer and create a new installation project.

2. Add a 64 bit program file and it support files to the file list.

3. Select Setup options menu item from the Special menu.

4. Open the 32/64 bit tab.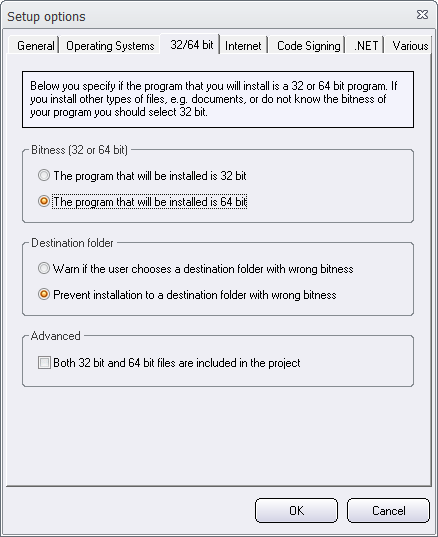 5. Select the The program that will be installed is 64 bit option.

6. Click on the OK button.

7. Click on the button with three dots (...) to the right of the Main folder text box in the File list tab.




8. Select the %PROGRAMFILES variable from the list in the dialog box that is shown (mark the variable and press the Select button).

9. In the Main folder text box in the File list tab, enter the folder name for your program after the
%PROGRAMFILES variable. For example, see the picture below:





10. Save the project.

11. Create an installation package by choosing the File - Create setup package menu item.

You have now created an installation project that installs a 64 bit application. You can test that the program installs as expected in a 64 bit computer with 64 bit Windows installed.



The %PROGRAMFILES variable that is used above is an "intelligent" variable that always will contain the correct folder path to the Program Files folder, regardless of the bitness of the system and Program Files folder. It will also take into account that localized folder names can be used for the Program Files folder.
| | |
| --- | --- |
| | Visual Installer Tip |
Only Professional Version