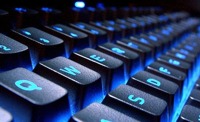 We sometimes get questions about how to move the cursor in a mailing list in MultiMailer without loosing the selections or how to select individual contacts in the mailing list without having other selections disappear. Some also wonder if you can open one contact's contact dialog box without losing the other selections in the mailing list.

Below we will provide answers to these questions as well as some other related tips.




How to browse through a mailing list with the keyboard without losing selections

Hold down the CTRL key while pressing the up or down arrow on your keyboard and the selections will remain in the mailing list as you move up or down with the cursor. Home and End can also be used to jump to the first or last in the mailing list without the selections disappearing, if CTRL is pressed at the same time.



How to select a contact / several contacts without other selections disappear

Press CTRL and space at the same time and you can select a contact without affecting other selections. You can also remove a selection in this way (if you press CTRL + space on a selected contact).
The same thing can also be done with the mouse by holding down CTRL and clicking on the left mouse button.



How to open a contact when duplicates are marked

If you press the F8 key on your keyboard, all duplicates in the mailing list will be selected and marked. If you want to open the contact's contact dialog box without the selections disappear, you can do it in one of the following two ways:

- Hold down CTRL when scrolling through the mailing list and when you are over the correct contact with the cursor, press Enter.

- Right-click with the mouse over the contact you want to examine closer and select the Edit Recipient menu option in the menu that is opened.

However, it is very easy to re-select the duplicates again by pressing the F8 key again; so if you prefer to double-click on a contact to display its contact information, you can work in this way too.



The easiest way to repeat the last selection operation

In MultiMailer, you can select contacts in the mailing list in many different ways. Especially in the More Selection Options sub menu in the Edit menu, there are many selection functions available. If you need to repeat the previous selection function, you do not need to open the menu again; you just need to press the F9 key. Then the selection function you used last is repeated.



How to select all contacts in a mailing list in the fastest possible way

To select all entries in the mailing list quickly, just press CTRL - A.