CONTENT

Foreword

Visual Installer: Using the 'Add tree' function in the editor

Visual Installer: How to add a folder tree to the file list

Visual Installer: How to check if Microsoft Office is installed

CD-Menu Creator: How to encrypt a document without a password

More news on Facebook
---
FOREWORD

To [$Namn],

It's soon Christmas again, and while you are waiting for the big holiday, you can read some interesting articles in this newsletter that cover our two tools Visual Installer and CD-Menu Creator.

Merry Christmas!
wishes
Anders Persson + other staff
on SamLogic Software
---
USING THE 'ADD TREE' FUNCTION IN VISUAL INSTALLER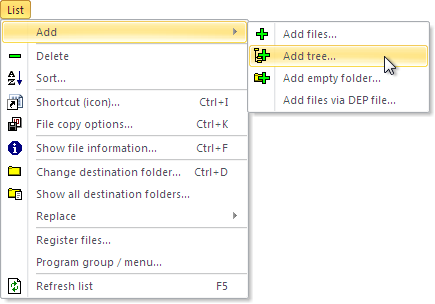 If you already have created a folder structure on your hard drive, with the files that you want to install, and want to create a similar folder structure on the destination drive, there is a very useful function in Visual Installer that you can use. The name of the function is Add tree and in this blog post we will show you how to use it:



Using the 'Add tree' function in Visual Installer
---
HOW TO ADD A FOLDER TREE TO THE FILE LIST

With the Add tree function in Visual Installer (described above) you can add a folder structure including files to Visual Installer's file list in an easy way. It is also possible to add a folder structure without files to Visual Installer's file list with the same Add tree function. In this blog post we will show you how:



How to add a folder tree to Visual Installer's file list
---
HOW TO CHECK IF MICROSOFT OFFICE IS INSTALLED



If your software is dependent on Microsoft Office it can be useful to check whether or not Microsoft Office is installed in the end-user's computer before an installation starts. In this blog post we explain how to do this when using Visual Installer:



How to check if Microsoft Office is installed during an installation
---
USB MENU CREATOR - AUTORUN MENUS FOR USB STICKS
With USB Menu Creator you can create AutoRun menu interfaces for USB flash drives. The menus will open automatically when the USB stick is plugged into the computer's USB port. From a menu users can run programs, open documents, play videos etc.

USB Menu Creator is a special bundle that contains the following 3 products: CD-Menu Creator, USB AutoRun Creator and Image Resizer. Click on the link below to read more:



Read more about SamLogic USB Menu Creator
---
HOW TO ENCRYPT A DOCUMENT WITHOUT A PASSWORD

In the previous issue of our newsletter we explained how to protect a document with a password and how to store it encrypted on a CD, DVD or USB flash drive. Sometimes it may be useful to only have the document encrypted, but without requiring (asking for) a password. This is also possible with CD-Menu Creator.





In this blog post we explain how to do it:



How to encrypt a document without a password
---
MORE NEWS ON FACEBOOK
More news are available on our Facebook page. Click on the link below to visit our Facebook page: