CONTENT

Foreword

How to password protect an installation (Visual Installer)

How to change registration order during a setup (Visual Installer)

Sending newsletters to Outlook.com, Gmail and Yahoo!

More news on Facebook
---
FOREWORD

To [$Namn],

In this issue of our newsletter you can read about how to use our setup tool Visual Installer to password protect an installation and how to change the order files are registered during an installation.

You can also read about an article that explains what to consider if you send newsletters to Outlook.com, Gmail and Yahoo! accounts.

Sincerely,
Anders Persson
SamLogic Software
---
HOW TO PASSWORD PROTECT AN INSTALLATION

In Visual Installer you can protect an installation from unauthorized use in two ways: you can protect it with an license key or you can protect it with a password. License key protection and password protection works in a similar way, but there are differences.




Read more in this blog post:



Visual Installer: How to password protect an installation
---
HOW TO CHANGE REGISTRATION ORDER FOR FILES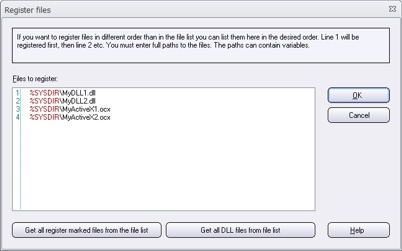 When you install files using Visual Installer, files are normally registered in the order that they appear in the file list. But sometimes this may create a problem, if one file is dependent of another file, and they are registered in the wrong order. To handle a situation like this there is an option in Visual Installer that allows you to register files in a particular order. We explain more in this blog post:



Visual Installer: How to change registration order during setup
---
USB MENU CREATOR - AUTORUN MENUS FOR USB STICKS
With USB Menu Creator you can create AutoRun menu interfaces for USB flash drives. The menus will be opened automatically when the USB stick is plugged into a USB port in a computer. From a menu users can run programs, open documents, play videos etc.

USB Menu Creator is a special bundle that contains the following 3 products: CD-Menu Creator, USB AutoRun Creator and Image Resizer. Click on the link below to read more:



Read more about SamLogic USB Menu Creator
---
SENDING NEWSLETTERS TO OUTLOOK.COM, GMAIL & YAHOO!

If you have a newsletter that you send regularly to your customers, you may have lots of contacts that have email accounts at Outlook.com (former Hotmail), Gmail and Yahoo!. If this is the case, we recommend you to read this article that explains how to design newsletters so they look good in these web-based email clients and how to make sure that the newsletters reach the receivers inbox:



Sending an E-mail / Newsletter to Outlook.com, Gmail and Yahoo!
---
MORE NEWS ON FACEBOOK
More news are available on our international Facebook page. In the Facebook page you can also ask us questions or post comments about our software and related topics.

Click the link below to visit our Facebook page:

MEDIA TOOLS
---
SamLogic Media Tools is a product suite for developers, marketers and informers and contains 5 of our programs.

ORDER
---
You can order Media Tools from this order page.


SEE ALSO
---
---
Visit also our blog.