CONTENT

Foreword

The Setup Wizard in Visual Installer

License key handling in Visual Installer

How to create a self-extracting setup

How to use your own icon for a file's shortcut

How to create a desktop shortcut

Articles about installations in Windows Vista / 7 / 8
---
FOREWORD

This is the second special newsletter in a series of five for those who had downloaded a trial version of SamLogic Visual Installer. The newsletters contain articles and practical tips about Visual Installer.

In this issue we have included a short article about the setup wizard in Visual Installer. We explains also one of the dialog boxes in the setup wizard in detail. Then we have a few tips about shortcuts/icons and how to create a self-extracting setup. Finally we have included links to two technical articles that gives lot of useful information about installations in Windows Vista, Windows 7 and Windows 8.

If you have questions about Visual Installer, please feel free to contact me. If you want to read another issue in this special newsletter series they are available here:



#1 - A powerful and easy-to-use setup tool

#3 - How to make a good first impression of your application

#4 - Code signing, installation of VB applications and Excel Add-Ins

#5 - 64 bit and localized installations

Sincerely,
Anders Persson
SamLogic Software
---
THE SETUP WIZARD IN VISUAL INSTALLER

The Visual Installer installation software consists of two main parts: the visual editor and the setup wizard. In the visual editor you create your setup project; for example chooses which files to install and chooses which setup dialog boxes to show during the installation. The setup wizard is the setup program that shows these setup dialog boxes for the end-user and installs your files in end-user's computer.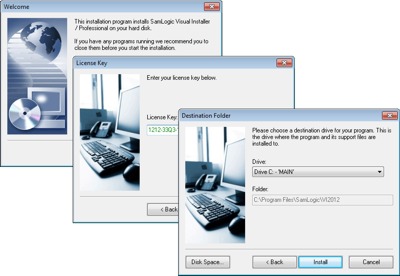 Setup wizard's dialog boxes
There are many setup dialog boxes included in Visual Installer that can be showed in the setup wizard. There are for example dialog boxes that show information messages, asks for a destination folder / destination drive, asks for a license key, shows license texts (EULA texts), handles passwords, register the user etc. You can in an easy way choose which dialog boxes to include in the setup wizard / setup program.

Use your own texts and your own pictures
You can specify your own texts and your own pictures for the setup dialog boxes. You can also affect the behaviour for many of the setup dialog boxes. This makes it possible to fine-tune the setup wizard so it suits your needs.

More information
You can read more about the setup wizard and the setup dialog boxes that are included in SamLogic Visual Installer on this web page:



Setup wizard - Many ready-to-use setup dialog boxes included
---
LICENSE KEY HANDLING IN VISUAL INSTALLER

One important dialog box in the setup wizard is the dialog box that asks for a license key (installation key). The license key assures that only users with a valid license key can install the software.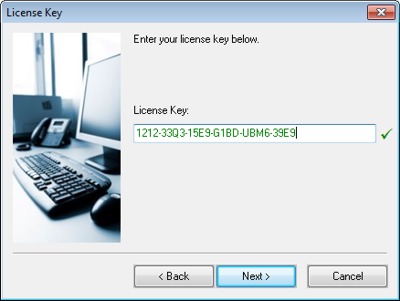 The picture above shows how the license key dialog box looks like. Visual effects makes it easier for user's to know when a license key is correct or invalid.

License key generator included
There is a license key generator included in Visual Installer. With the key generator large series with license keys can be generated in an easy way. But you can also specify your own static license keys, if you prefer that.



Powerful license key handling in Visual Installer
---
CREATE A SELF-EXTRACTING SETUP

With the installation tool SamLogic Visual Installer you can create a self-extracting setup file. When you use this feature all files in the installation will be packed to a single compressed EXE file.

The use of self-extracting setup files simplifies the delivery of programs and documents via the Internet. In this step-by-step tip we will show you how to create a self-extracting setup package:



Tip: How to create a self-extracting setup
---
USE YOUR OWN ICON FOR A FILE'S SHORTCUT

Normally when a shortcut is created for a program file, document, video etc. in Windows, the file's default icon is used. But if you want to use another icon for a file, it is possible to do this with the SamLogic Visual Installer installation tool. This tip shows hot to achieve this:



Tip: How to attach your own icon to a file
---
CREATE A DESKTOP SHORTCUT
Today it is common to also have a shortcut on the desktop. The desktop shortcut makes it easier for end-users to find your program (or other file) after an installation. This tip describes how to add a shortcut to Windows desktop during an installation.



Tip: How to create a desktop shortcut
---
ARTICLES ABOUT INSTALLATIONS IN WINDOWS VISTA / 7 / 8

We have published many articles related to installations on our web site. Two of the articles covers installations in Windows Vista, Windows 7 and Windows 8. The articles contain information that can be useful to know when creating setup packages that must be compatible with Vista / 7 / 8; for example how to handle standard and administrator privileges, 64 bit folders etc.



Creating an installation program for Windows Vista & Windows 7

How to install a desktop application / desktop app in Windows 8