CONTENT

Foreword

Visual Installer can install both 32 bit and 64 bit applications

Important information about 32 bit and 64 bit folders

Localized installations

The Program Files folder in different languages

A scripting language for advanced installations

Tips & Tricks pages and articles
---
FOREWORD

This is the last newsletter in a series of five for those who had downloaded a trial version of SamLogic Visual Installer. The newsletters contain articles and practical tips about Visual Installer.

In this issue you can read about 64 bit installations and about localized installations (installations in different countries and languages).

If you have questions about Visual Installer, please feel free to contact me. If you want to read another issue in this special newsletter series they are available here:



#1 - A powerful and easy-to-use setup tool

#2 - The setup wizard in Visual Installer

#3 - How to make a good first impression of your application

#4 - Code signing, installation of VB applications and Excel Add-Ins

Sincerely,
Anders Persson
SamLogic Software
---
VISUAL INSTALLER CAN INSTALL 32 BIT & 64 BIT APPLICATIONS

Visual Installer is a versatile installation tool and can install both 32 bit and 64 bit Windows applications. And Visual Installer can install a 32 bit application in both 32 bit Windows and 64 bit Windows. Most of this process is automatic and is handled beneath the surface, but you have to tell Visual Installer if your application is 32 bit or 64 bit. How this is handled is described in this tip:



Tip: How to install a 64 bit program
---
IMPORTANT INFORMATION ABOUT 32 BIT AND 64 BIT FOLDERS

In a 64 bit computer with 64 bit Windows installed there exists two Program folders and two System folders. The reason to this is that 32 bit binary files and 64 bit binary files must be placed in different folders; the 32 bit and 64 bit files can not be copied to the same folders!

Why they can not be copied to the same folders is explained in this technical article that we have published on our web site:



The 'Program Files (x86)' and 'SysWOW64' folders explained

We recommend you to read the article before you start creating installations that should be compatible with 64 bit systems.

Visual Installer will handle this automatically if Visual Installer knows the bitness of the application, but a general knowledge about how 32 bit and 64 bit files & folders are handled may be useful in many situations.

---
LOCALIZED INSTALLATIONS


Not everybody talks English and uses an English Windows. In fact, the most versions of Windows in use are localized. It can be a Spanish Windows, a German Windows, a French Windows, a Swedish Windows etc.

With Visual Installer you can create a user interface for the setup wizard that is localized in a specific language. How you create a localized user interface is described in this tip on our web site:



Tip: Create installations in different languages
---
THE PROGRAM FILES FOLDER IN DIFFERENT LANGUAGES

The Program Files folder in Windows is the folder where applications are installed to. The name of this folder is not the same in all countries / languages. Instead are often localized names used, that matches the language of the Windows that is run. For example in a Spanish Windows the name of the Program Files folder is Archivos de programa. And in a German Windows the name of the folder is Programme.

More information is available in this article on our web site:



The 'Program Files' folder in different languages
---
CREATE AUTORUN MENUS WITH USB MENU CREATOR
With USB Menu Creator you can create AutoRun menu interfaces for USB flash drives. The menus will be opened automatically when the USB stick is plugged into a USB port in a computer. From a menu users can run programs, open documents, play movies, open web pages etc.

USB Menu Creator is a special bundle that contains the following 3 products: CD-Menu Creator, USB AutoRun Creator and Image Resizer. Click on the link below to read more about the product:



Read more about SamLogic USB Menu Creator
---
A SCRIPTING LANGUAGE FOR ADVANCED INSTALLATIONS

With Visual Installer you can create quite complex installations without programming, but there may be occasions when a scripting language and script commands can help solve a situation.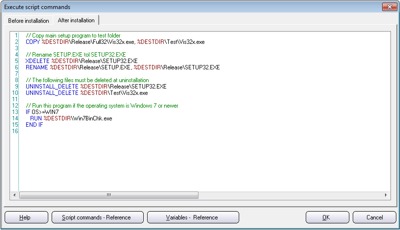 In the Professional version of Visual Installer there is a flexible scripting language available, and in the following tip we will show how to use some commands in Visual Installer's scripting language:



Tip: Visual Installer's Scripting Language
---
TIPS & TRICKS PAGES AND ARTICLES

In these newsletter issues we have linked to some tips & tricks pages for SamLogic Visual Installer. More tips are available from the following web page:



Tips & Tricks for SamLogic Visual Installer

We have also published many technical articles about installations, code signing, the Windows OS etc. on our web site. They can be read here:



Article Archive - Technical articles related to Visual Installer