CONTENT

Foreword

Free images and icons for your menu interface

How to create an AutoRun menu for a USB flash drive

Specify your own icon for a CD / DVD / USB flash drive

Get the drive letter for a CD / DVD / USB flash drive

Tips & Tricks pages, videos and articles for CD-Menu Creator
---
FOREWORD

This is the last newsletter in a series of four for those who had downloaded a trial version of CD-Menu Creator from SamLogic Software. In this issue you can read about where you can find images & icons and how you can use them in CD-Menu Creator.

You can also read about how you can use CD-Menu Creator together with the tool USB AutoRun Creator to create an AutoRun menu interface for a USB flash drive.

If you have questions about CD-Menu Creator, please feel free to contact me. If you want to read another issue in this special newsletter series they are available here:



#1 - Why create a menu interface for a CD, DVD or USB stick?

#2 - Design menu buttons that make impression

#3 - How to add social media (like Facebook) to a menu

Sincerely,
Anders Persson
SamLogic Software
---
FREE IMAGES AND ICONS FOR YOUR MENU INTERFACE


There exist lot of web sites on the Internet that contains high-quality images and icons that can be used to programs, web sites, blogs and e-mail newsletters. Many of them are free to use, also for commercial purposes. You can read more in this article on our web site:



Free Images for Your Software, Blog and Email Newsletter
---
USB MENU CREATOR - AUTORUN MENUS FOR USB STICKS
With USB Menu Creator you can create AutoRun menu interfaces for USB flash drives. The menus will be opened automatically when the USB stick is plugged into a USB port in a computer. From a menu users can run programs, open documents, play movies, open web pages etc.

USB Menu Creator is a special bundle that contains the following 3 products: CD-Menu Creator, USB AutoRun Creator and Image Resizer. Click on the link below to read more about the product:



Read more about SamLogic USB Menu Creator
---
CREATE AUTORUN MENUS FOR USB FLASH DRIVES

The menu designer tool CD-Menu Creator can be used together with USB AutoRun Creator to create AutoRun menus for USB flash drives.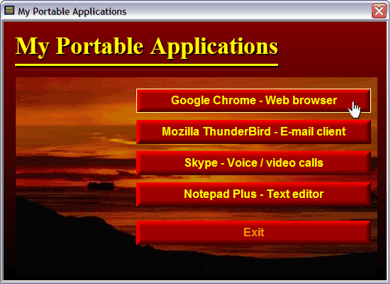 This step-by-step tip will show you how to use CD-Menu Creator and USB AutoRun Creator to create an AutoRun USB flash drive:



Tip: How to create an AutoRun menu for a USB flash drive
If you need to create AutoRun menu interfaces for USB flash drives, we recommend you to take a look on this product. It is a special bundle with CD-Menu Creator and USB AutoRun Creator:



SamLogic USB Menu Creator
---
SPECIFY YOUR OWN ICON FOR A CD / DVD / USB FLASH DRIVE
With CD Menu Creator you can replace the Windows default icon for the CD / DVD / USB stick (the icon that appears in Windows Explorer) with your own customized icon. The icon can be for example a product logo. In this step-by-step tip we will show you how to replace the default icon for a disc/drive in Windows:



Tip: How to create a personalized icon for your CD / DVD / USB stick
---
GET THE DRIVE LETTER FOR A CD / DVD / USB FLASH DRIVE

Sometimes you need to know the drive letter of the CD, DVD or USB flash drive where the menu is run. This tip shows how you can obtain this information. This tip is available both as a text tip and video tip:




Tip: How to get the drive letter of the CD/DVD/USB drive
---
TIPS & TRICKS PAGES, VIDEOS AND ARTICLES

In these newsletter issues we have linked to some tips & tricks pages for SamLogic CD-Menu Creator. More tips are available from the following web page. If there is a

symbol to the right of the title of the tip, the tip is also available as a video:



Tips & Tricks for SamLogic CD-Menu Creator

We have also published many technical articles about AutoRun, CDs/DVDs, USB sticks etc. on our web site. They can be read here:



Article Archive - Technical articles related to CD-Menu Creator