How to market products with email newsletters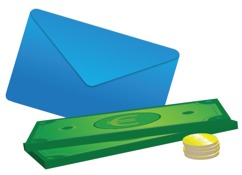 Today is email marketing, for examble by using email newsletters, the fastest and most cost-effective way to market your products and services. You can achieve some really impressive results with an email campaign; you just have to make sure to do it right. There are several basic rules when it comes to marketing and sales communications that apply to email marketing as well. However, email marketing differs from traditional marketing and its specialities must be taken into account when aiming for good results.

The following 5 tips will guide you through the process of creating favorable conditions for achieving the best possible results with your email marketing.


1. Do you have an email marketing strategy?



Successful email marketing requires a well thought-out strategy. E-mail promotions work best when your customers get the right message at the right time. This requires a long-term and carefully prepared plan for your email dispatches. In order to reach that, start by setting and dividing your email marketing strategy into three parts:

Inform with email
The goal in this step is to inform your customers in an objective way about your products and services. Try to explain unbiassedly what your products do and who can benefit from them. You have to "teach" your customers what your products actually can do as this is not always obvious, especially to new customers. An email newsletter with some tips and information in form of an article is an excellent way to do this. This can be combined with some links to your website for more detailed information. You can also email your customers a PDF document with a detailed product presentation or more comprehensive descriptions of your services.

Remember, the first step is about informing, not selling. In this phase it is enough with providing your contact details. In that way, your recipients can get in touch with you easily in case they wish to order or just to get more information.

Market with email
In this step you aim for using email to market and promote your products and services. This marketing strategy requires a long-term perspective. The goal is to highlight all the benefits your customers can receive by using your products and strengthen your brand and company name in the customer-relations.

A newsletter dispatched by email is an excellent method to do so. Such newsletter can be complemented by targeted email promotion that should be primarily aimed at those who have shown some interest in your products and services before. We advise you to adjust the text of your targeted email promotion for every customer group if possible. Make your readers curious so they will want to take a contact with you for more information, even though they will not be buying directly. Another important tips is to try to make your customers click on to your website and bring up the benefits of your products even more there.

Sell with email
The goal for this part of your email marketing strategy is to optimize your sales letters to get your customers to buy directly. A successful sale requires a good knowledge of your products and their benefits from your customers' side, i. e. a well made implementation of the above listed measures. Your aim here is customers' direct purchase decision based on the information provided in your sales email. When selling by email, make it as easy as possible for your customers to order.

2. How much money and time can you invest in your email marketing?



Money and time are of great importance when creating a marketing campaign, its content and its follow-up. So, how much money and time can you actually invest in your email marketing? The big advantage of email marketing compared to other marketing forms is its very low cost. The mailing cost of an email dispatch is almost negligible and the cost of e.g. a newsletter creation is up to you. With a good email marketing tool there is no need for spending much time on your email marketing while you still can achieve some impressive results.

A great way to quickly design your own professionally looking newsletter at low costs is to use a newsletter template with good design that you can easily customize after your needs. It can also be a good investment to let a web consultant to create a newsletter template for you. Once you have a well made basic template for your newsletters, it is easy to reuse it by simply replacing images and text every time you need a new newsletter.

3. Do you have correct email addresses of your customers?



E-mail addresses change frequently so make sure to regularly update your mailing list(s) to keep it fresh. Furthermore, try to use personal email addresses such as "john.smith@samlogic.com" instead of "info@samlogic.com". This increases the chance of your email getting to the right person. Additionally, make sure not to use email address duplicates. There are not many things that will annoy your email recipients more than getting the same email several times. To prevent this, use an email program that can find and eliminate duplicates.

4. What is the best timing for your email dispatch?





Try to time your email dispatch, e.g. newsletter dispatch, in a way that lets your customers to read it undisturbed. For B2B (business to business) clients is the best timing for receiving emails within office hours. E-mails sent on weekends and at night will most likely disappear in the huge email amount that pop up every morning in your customers' email client. Monday mornings can be especially overwhelming with all emails that have been hoarding over the weekend, waiting to be opened.

In general, sending out your newsletters on Mondays might not be the best idea since Monday's work load is usually the heaviest. Further on, Friday's dispatches should be made in the morning as many people are often done earlier with their work on Fridays.

You should try to time your international dispatches to foreign customers in other time zones in a way that allows them to receive your emails during their office hours. This can be done by using an email program/service with a build-in automatic email dispatch at a predefined time (i.e. you can choose an exact time for your email dispatch or set a specific time zone for every contact).

5. How often should you send your marketing emails and newsletters?



Sending out marketing emails or email newsletters too often puts you at risk of making your customers tired of it and signing out from it, alternatively blocking you as a sender. To avoid this, you should not send your emails too often to the same customer. However, making your email dispatches too sporadic is not so good either since you may miss out important business opportunities. Obviously, the key is to finding a good balance for your email dispatches. A regular monthly newsletter completed with emails with more detailed information about new products and services plus an annual email promotion can be an appropriate email marketing strategy.

However, it is difficult to generally set an exact email marketing periodicity as the recommendation varies from branch to branch. Receiving fresh news through frequent email dispatch is important for branches with quick development and constant changes. On the other hand, for branches with slower innovation pace are longer time intervals between email dispatches more appropriate. You will achieve the best results by combining different forms of marketing channels such as Facebook and Twitter together with email marketing.


Do you want to read more articles and tips?



If you want to read more articles and tips about e-mail newsletters and related topics you can follow us on Facebook or Twitter, or subscribe on our newsletter. You can also read our blog.

Related products:
SamLogic MultiMailer

Other articles
More articles are available from the article index page.