What is a Mail Server and How Does it Work?



A mail server (sometimes also referred to an e-mail server) is a server that handles and delivers e-mail over a network, usually over the Internet. A mail server can receive e-mails from client computers and deliver them to other mail servers. A mail server can also deliver e-mails to client computers. A client computer is normally the computer where you read your e-mails, for example your computer at home or in your office. Also an advanced mobile phone or Smartphone, with e-mail capabilities, can be regarded as a client computer in these circumstances.






SMTP and POP3 server
When you press the "Send" button in your e-mail program (e-mail client) the program will connect to a server on the network / Internet that is called an SMTP server. SMTP is an acronym for Simple Mail Transfer Protocol and it is a protocol that is used when e-mails are delivered from clients to servers and from servers to other servers.

When you download e-mails to your e-mail program the program will connect to a server on the net that is known as a POP3 server. A POP3 server uses a protocol named POP3 for its communication. That is the reason why it is called a POP3 server and POP3 is an acronym for Post Office Protocol version 3.

If you want to read more about the SMTP and POP3 protocols, see the information boxes in the bottom of this page.


How can my e-mail program (e-mail client) find right mail server on the Internet?
When you start your mail program for the first time, you must normally enter e-mail account information before you can use the program. You must for example specify the name of a server for outgoing e-mail and the name of a server for incoming e-mail. It is here you specify which SMTP server and which POP3 server that your mail program will communicate with over the Internet. The servers can be located anywhere on the Earth, but usually they are located in same country as your client computer.


Can I use any mail server I want on the Internet?
No. The Internet service provider (ISP) that you use when you browse the Internet will normally have mail servers that you can access for your e-mails (both incoming and outgoing e-mail) but you can normally not access mail servers that other Internet service provider own. The reason for this is that mail servers only accept certain IP addresses (the IP addresses that the ISPs provides) and if your IP address is outside this range you will be denied access to the server.

There are exceptions, however. In some cases you can download e-mail from POP3 servers provided by other ISPs. They will only check that your username and password is correct. And there exists also standalone email servers on the Internet that works independently of Internet service providers, and through them you can send and receive e-mails if you have access to the username and password. Many web hosting services provide this kind of stand-alone mail servers.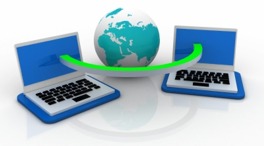 How do mail servers find each other on the Internet?
When you send an e-mail from your local computer to a mail server, your e-mail has just started it's journey to your recipient. Perhaps your receiver is on the other side of the world, and then it's a very long distance that the e-mail must travel before it arrives to your receivers computer.

Before the mail server that your e-mail program communicates with knows where to deliver the e-mail message it will examine the e-mail address that you have specified as a receiver of the message. The mail server will extract the domain name of the e-mail address and use it to locate the mail server (POP3 server) that your receiver's client computer communicates with. The domain name is found after the "@" character in an e-mail address. If for example the e-mail address is john@abc.com, the domain name is abc.com. By using this domain name as an address the mail server will find which mail server on the Internet to deliver the e-mail message to. When the server has been identified and it has responded that it will accept an e-mail delivery, the e-mail is sent to this server. And next time your receiver logs on to the POP3 server via his/her client computer, your e-mail will be downloaded to the person's e-mail program. Normally all this will take just a few seconds, but if the mail servers or Internet have a lot of traffic at that moment it can take some more time.

This was a simplified description of how e-mails are delivered through the Internet. If you want to have a more detailed description you can click on the links in the information box The SMTP and POP3 protocol below.


What is IMAP4?
You may have seen the acronym IMAP4 before and wonder what it is. IMAP4 is a further development of the POP3 protocol and is used to read e-mail from mail servers. IMAP4 is not used as much as POP3, but many modern mail servers have support for IMAP4. IMAP4 is an acronym for Internet Message Access Protocol version 4. If you want more information about IMAP4, you can read this article on Wikipedia.



The SMTP and POP3 protocol



If you want to read more about the SMTP and POP3 protocols and get more detailed information about SMTP and POP3 servers you can click on the links below:

The SMTP protocol (Wikipedia)
The POP3 protocol (Wikipedia)
The SMTP Protocol / The SMTP Server (this site)

What is an IP address?



An IP address is the

unique

number that every computer that is connected to a local network or the Internet has. We humans use letters and names to identify places (for example domain names) but computers use numbers instead. An example of an IP address is: 213.100.32.73. You can read more about IP addresses in this article on Wikipedia.
Do you want to read more articles and tips?



If you want to read more articles and tips about mail servers and related topics you can follow us on Facebook or Twitter, or subscribe on our newsletter. You can also read our blog.

Related products:
SamLogic MultiMailer
SamLogic Internet Components

Other articles
More articles are available from the article index page.