Sometimes it is necessary to change source folder paths for a group of files in Visual Installer's file list. This is necessary if for example some files have been moved to another folder location or if you change computer and the folder paths that are used in the new computer are different. But luckily, this is very easy done in Visual Installer. In the tip below we show how to do this.
How to change source folder paths for a group of files
1. Start Visual Installer and open your Visual Installer project file (.VIP file).
2. Open the List – Replace – Replace source folders menu item (see picture below).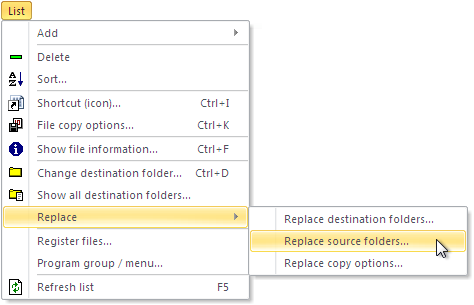 3. Enter the existing folder path and the new folder path in the dialog box that is shown.
4. Click OK in the dialog box to do the replace operation.
Now every folder path that match the criteria will be updated in the file list.
To make sure that folder paths are correct spelled and really exists on the drive, you can hit the F5 button. If the folders do not exists, Visual Installer will show a warning message and show which files in the file list that have wrong folder paths.
See also
> How to view source paths in the file list in Visual Installer