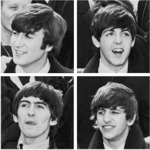 It has now been 50 years since the pop and rock group The Beatles released their first single Love Me Do. The single was released October 5, 1962 by Parlophone (EMI). The single's B-side was the song P.S. I Love You. Both songs were written by John Lennon and Paul McCartney and was included in the album Please Please Me, which became their first album (it was released in 1963).
Organize your Beatles favorites
If you are a Beatles fan, or maybe have another favorite group or singer that have released many albums and singles, we have a great tool that you can use to organize your songs, music videos, images, documentary films, interviews and other information. With our tool CD-Menu Creator you can organize the information in a logical way and access information quickly and easily by navigating through a graphical menu interface.
CD, DVD, USB stick or hard drive
Whether you want to store the information on a CD, DVD, USB memory or on your hard drive you can use CD-Menu Creator. Through the program's menu interface, you can access songs, videos, pictures, etc. in an easy way. If you for example want to start a music video, you just click on a button or a link in the menu.
More information about the program
More information about CD-Menu Creator is available on this page.