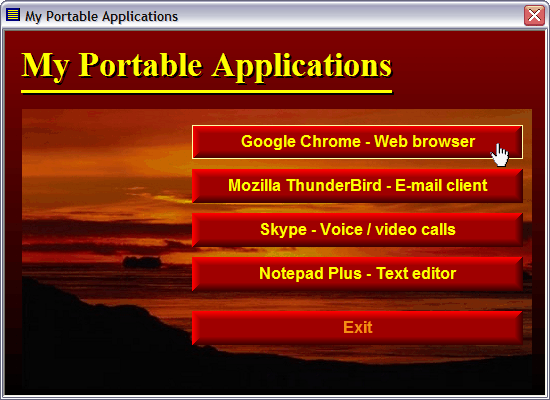 Portable applications – also called portable apps – are small programs that do not require an installation in a computer before they are run; instead they are run directly from a removable drive, for example a USB flash drive. A portable application is usually a utility program, for example a text editor, email client, web browser, antivirus software, backup software, system tool etc, but can also be a game or something else.
One of the biggest advantages using portable apps is that the system itself (for example the Windows Registry) is not affected. All settings are stored in a local folder on the storage device, although there sometimes can be exceptions from this behaviour and some settings can be stored on the computer's hard disk.
AutoRun menu for your portable applications
If you use our AutoRun tool USB AutoRun Creator in concert with our menu designer tool CD-Menu Creator you can create a menu interface for your portable applications that is automatically opened when the USB stick is inserted into a computer's USB port – a so called AutoRun menu. This menu interface lets you quickly and easily start a portable app with just one mouse click. The picture in the top of this blog post shows how a menu interface for portable applications can look like. If you press on one of the buttons in the menu, the portable program is launched immediately.
More information
If you want to read more about USB AutoRun Creator, CD-Menu Creator and portable applications, click on the link below: