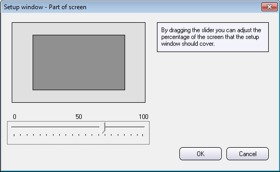 We have updated Visual Installer with a new function; you can now set a relative size for the setup window. The size is specified with a percent value, so the setup window will always cover a specified percentage of the screen. The percentage is easily specified using a visual slider (as shown in the picture to the right).
Below is a picture that shows how a setup window can cover a part of the screen.
Where to find the slider?
You can open the dialog box with the slider from two places in the program:
– Via the Object – Setup window menu item. Press the Change button to the right of the Percentage size option in the dialog box that is shown.
– When you choose a New project. Press the Settings button and Change size button.
(This function is available in Visual Installer version 9.5.20 and later.)