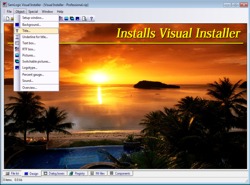 A new version of our setup tool Visual Installer has now been released. The name of the new version is SamLogic Visual Installer 2012 and some of the new features in the new version are:
• Support for Microsoft Windows 8.
• Support for Microsoft Office 2010.
• Support for Microsoft Visual Studio 2010 and 2012.
• Support for .NET Framework 4.0.
• Compatible with TeamViewer.
• Updated support for AutoCAD profiles.
• You can now create a submenu (subgroup) for shortcuts in an easy way.
• Support information etc. can be added to 'Add/Remove Program' in Windows Control Panel.
• Improved handling of updates.
• Updated 'Create setup package' dialog box.
• New script commands and a new variable.
A more detailed list with the new features is available on this page.

In coming blog posts we will describe the new features in SamLogic Visual Installer 2012 in more detail.