We have updated Visual Installer so you can choose a PFX file (Personal Information Exchange file) directly from the Visual Installer editor, when you want to code sign a setup package. You don't need to split the PFX file in a SPC file and a PVK file as before.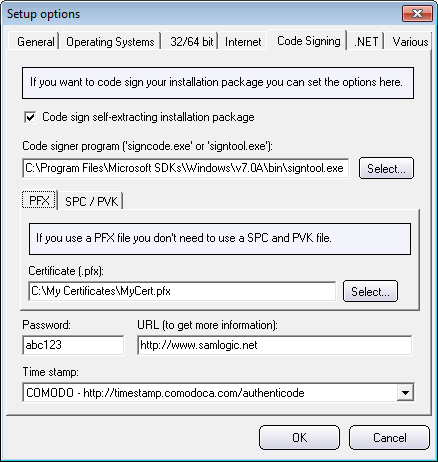 The Code Signing tab in the Setup options dialog box in the Visual Installer editor has been updated. In the picture above you can see how the new updated Code Signing tab looks like.
In the Code Signing tab there is now two sub tabs: PFX and SPC / PVK. In these tabs you can choose if you want to use a PFX file or a SPC and a PVK file during the code signing process. If you have specified a PFX file you don't need to to specify a SPC and a PVK file. And vice versa.
More information about code signing in Visual Installer
More general information about code signing in Visual Installer is available on this web page: