The email marketing software SamLogic MultiMailer 2013 has a new feature that you can use to publish Twitter messages (tweets) directly from the program. So when you send out a newsletter, you can inform on Twitter about it at the same time. You use the Twitter feature in MultiMailer by selecting the menu option File – Twitter. This opens the following dialog: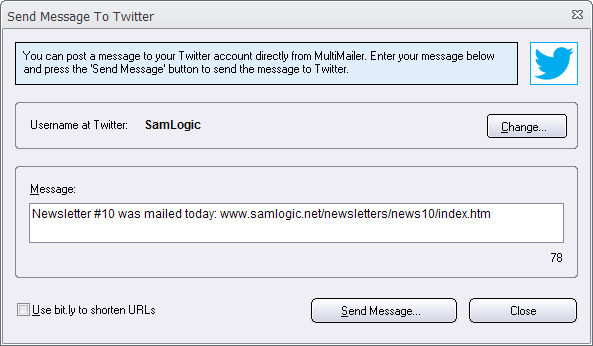 Web links in Twitter messages can be automatically shortened. You can choose to use the bit.ly service to shorten the links or let Twitter to shorten the link when the message is received. If you wish to use the bit.ly service, check the box Use bit.ly to shorten URLs in the Send message to Twitter dialog (see image above).
You can continuously see the length of your Twitter message while writing so you can make sure not to exceed the maximum limit of 140 characters in a tweet. To enter the username and the password for your Twitter account, press the Change button.
More use of social media
You can also add a Twitter icon to your newsletter, so if your customer clicks on it, he/she goes directly to your Twitter page. Check out our video about how to add support for social media in MultiMailer.
Related information
> Social media in MultiMailer
> New features in SamLogic MultiMailer 2013