With the Add tree function in Visual Installer you can add a folder structure including files to Visual Installer's file list in an easy way. It is also possible to add a folder structure without files to Visual Installer's file list with the same Add tree function. We will show below how to do this.
1. Open the List menu and choose the Add – Add tree menu item.
2. Select a folder in the Select folder dialog box and click OK.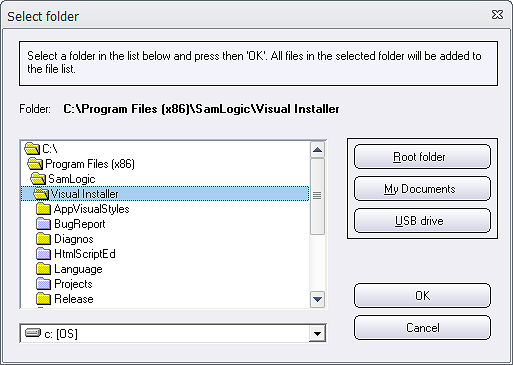 3. Click on the More options button in the Collect files from folders and sub folders dialog box that now appears.
4. Select the Only add folders option in the More options dialog box that now is shown.

5. Click OK to close the dialog box. The text in the previous opened dialog box will be updated to: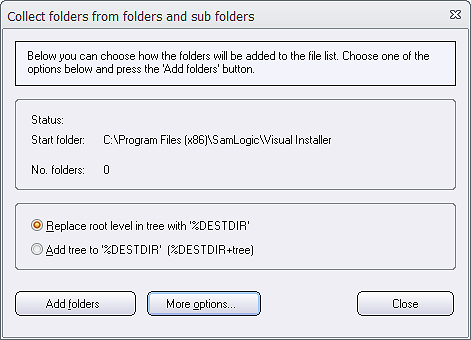 6. Now click on the Add folders button to start collecting folder. All folders and sub folders in the selected folder (in step 2) will be added to Visual Installer's file list. The number of collected folders will be displayed after the No. files field name in the dialog box.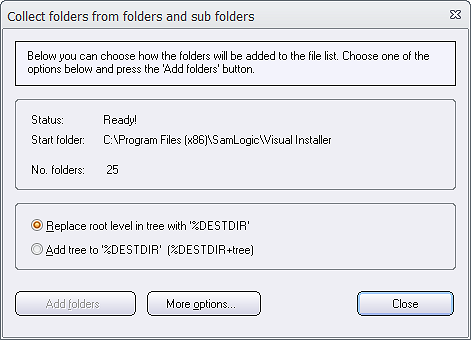 7. Click the Close button in the dialog box to return to the file list.