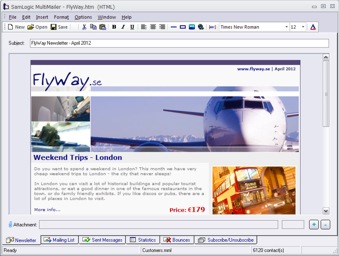 We have now released a new version of our e-mail marketing software SamLogic MultiMailer. In this version of our software we have added powerful functions for statistics and analysis of e-mail / newsletter campaigns. You can now, for example, see who of your contacts opens your newsletter, who clicks on links in your newsletter, and which links they click on. This information can be viewed directly in the program or exported to other programs, for example to CRM systems.
Improved Export Functions
The export functions in MultiMailer have been improved. For example, you can now export information directly to Microsoft Excel sheets.
Improved Newsletter Wizard


Also the newsletter wizard in the program has been improved. The newsletter wizard now supports Google+ (you can add a Google+ logotype to your newsletter that opens your Google+ page), more header pictures have been added, and you can choose a background (the area outside the outer frames of the newsletter) that fades between two colors. This allows you to create more stylish newsletters.
More Information
You can read more about the news in MultiMailer 2012 on this page:
> SamLogic MultiMailer 2012 – News
More details about the new statistics and analysis functions is available here:
> Statistics and analysis of newsletter campaigns
In coming blog posts we will describe the new features in MultiMailer 2012 in more detail.